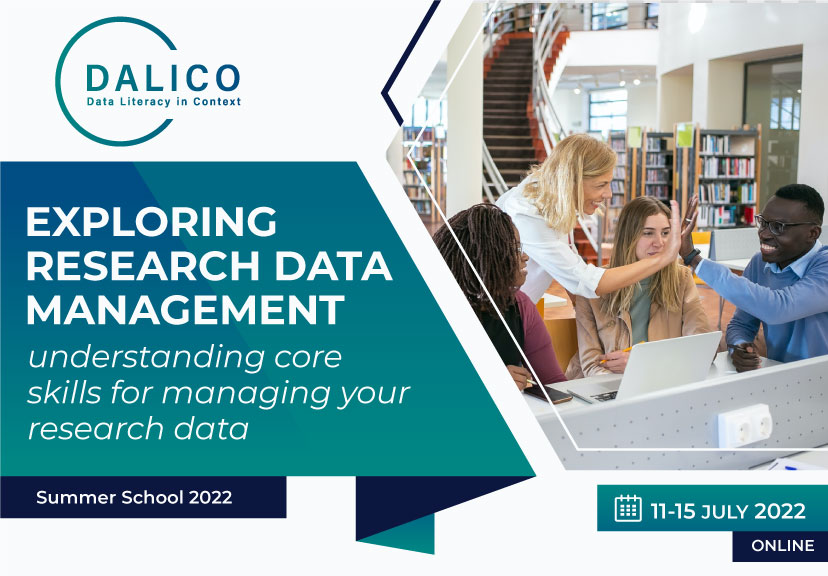 Exploring Research Data Management: understanding core skills for managing your research data
The Summer School, organized by University of Debrecen within the framework of the DaLiCo project, focuses on the digital literacy skills and competencies researchers should have when working with research data. The event is targeting next generation researchers who are entering the realm and practices of scientific research. Digital technologies have changed research environments and researchers must face digital transformation to improve their research processes and to implement new digital workflows in order to comply with new funders' and institutional requirements. To ensure the effective utilization of new digital tools for collecting, processing, publishing data researchers require digital skills in their research.
The workshop wishes to provide young researchers with information about the methods and tools of research data management to strengthen core competencies in need of becoming data literate science workers. It also plans to engage participants in a dialogue about the nature of data management, data quality, data ethics and data publishing, data citation.
---
Organizers and presenters
Edit Görögh, University of Debrecen
Judit Fazekas-Paragh, University of Debrecen
Ádám Száldobágyi, University of Debrecen
Kristin Ameis, HAW Hamburg
Christine Gläser, HAW Hamburg
Ulrike Spree, HAW Hamburg
Alberto Conejero, University of Valencia
---
Topics of discussion
Open data
Data collection and cleaning can be an expensive procedure for many projects or organizations which are limited in their capacity to collect and manage large amounts of data. Making data open has several benefits: (1) open data increases the number of datasets available for others to analyze and draw conclusions, (2) open data leads to transparency, (3) it builds a community by bringing people together who are woring on similar issues. Open data results in collaboration rather than competitiveness. The workshops dedicated to this topic provide a theoretical review of EU trends of open data research. The case studies are dedicated to show the practical implementation of open data work flows and research procedure. The afternoon session focuses on the tools used in working with data showcasing data collection, evaluation and organization methods.
Research data management
Open science means opening all phases of research to the public. This would allow for the reuse and reproducibility of scientific research. In case of Research Data Management (RDM) these requirements are established through Findable, Accessible, Interoperable, Reusable (FAIR) principles. To adopt FAIR practices in everyday work, researchers need to acquire new knowledge and skills through continuous discipline-specific training and best practices in the field. The dedicated workshop in the Summer School covers the basic knowledge in managing DMPs, creating metadata for datasets and handling data conversions.
Data sharing
Data sharing refers to practices, technologies, and legal frameworks that are relevant to transactions of information and data digitally between different kinds of organizations. The benefits of sharing data include combining data from different sources for increased performance and value and enhancing collaboration and data-driven decision-making.
Data sharing is closely related to publishers' practices (enabling transparent editorial policies, publication/availability of datasets alongside research papers in OA, developing interoperability with other OS infrastructures, implementing more transparent peer review processes) and ethics and research integrity issues (adopting research integrity policy at all levels and enforcing research integrity policy). The workshop provides a background information on recent EU trends on data sharing practices and tools to implement these principles in data sharing practices.
dátum
2022 júl 11 - 15
Lejárt!
időpont
08:00 - 16:00
helyszín
online
Exportálás